"SHIMMER at The Collective" will take place on Sunday, October 11th at the Marion County Fairgrounds (7300 E. Troy Ave.) in Indianapolis, IN. Bell time is 4pm Eastern. Scroll down to purchase tickets!
The event is being held in a venue that normally holds 2,000 people, scaled down to only 25% of seating capacity, with distanced seating. Masks will be required for all attendees.
Floor seats are available in limited quantity, as single seats or groups of 2-4 seats. Each single seat or group of seats will be socially distanced from the other single seats or groups of seats (friends in a group will be in a cluster of chairs together). The general admission seating in the bleachers will also require that attending individuals (or groups) distance from each other.
Among the competitors signed for SHIMMER at The Collective are: SHIMMER Champion Kimber Lee, SHIMMER Tag Team Champions "Team Sea Stars" Ashley Vox & Delmi Exo, Interim Heart of SHIMMER Champion "The Renaissance Woman" Hyan, "The Queen of Suplexes" Nicole Savoy, "Hell's Favorite Harlot" Priscilla Kelly, Zoey Skye, "The Virtuosa" Deonna Purrazzo, Thunderkitty, "AK-47" Allysin Kay, Marti Belle, Nevaeh, Holidead, Solo Darling, Willow Nightingale, Davienne, "Legit" Leyla Hirsch, Kenzie Paige, Kayla Kassidy, Elayna Black, and more still to be announced during the remaining weeks leading up to the event!
The Collective is a three day independent wrestling festival of events, featuring assorted promotions from around the United States! Four live events will take place each day, from October 9th-11th at the Marion County Fairgrounds in Indianapolis. Fans interested in attending all 12 of the events that weekend can purchase a General Admission Package at a cost of $199 (a savings of 23% off the individual General Admission prices). Click here to purchase GA Ticket Packages.
To purchase tickets for just the SHIMMER event on October 11th, use the Buy Now buttons below. If you experience any problems trying to purchase tickets, please E-mail us at shimmernews@yahoo.com to let us know. Tickets for the event must be purchased in advance, to eliminate the need for cash transactions on the day of the event. Join us at The Collective!
**
Click here for an update on the Berwyn, IL SHIMMER events
**
---
INDIANAPOLIS TICKETS
---
First Row Floor Seating
Single Seat $60
SOLD OUT!
Group of 2 Seats $120
SOLD OUT!
Group of 3 Seats $180
SOLD OUT!
Group of 4 Seats $240
SOLD OUT!
---
Second Row Floor Seating
Single Seat $45
Group of 2 Seats $90
Group of 3 Seats $135
Group of 4 Seats $180
---
Third Row Floor Seating
Single Seat $35
Group of 2 Seats $70
Group of 3 Seats $105
Group of 4 Seats $140
---
Reserved Bleacher Seating
(above/on the sides of the wrestlers' entrance aisle)
Group of 2 Seats $90
---
Socially Distanced Bleacher Seating
(General Admission $25)
---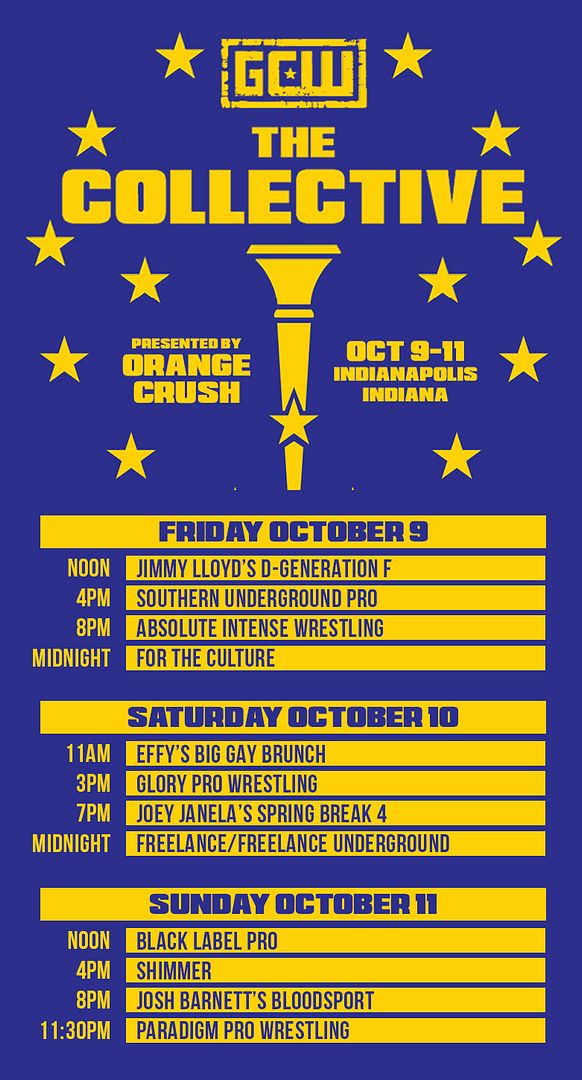 ---