While supplies last, we are offering a set of
FREE
glossy SHIMMER posters from our 2018 live events
with purchase of four or more DVDs
! The posters include Mania Weekend 2018 (SHIMMER 100), Spring 2018 (SHIMMER 101-104), and Autumn 2018 (SHIMMER 105-108).
Below is an index of the latest releases in the SHIMMER series. You may order online by using the PayPal buttons below each DVD description. If you would like to purchase DVDs from SHIMMER using a money order, please E-mail
shimmernews@yahoo.com
for mail order instructions.

Vols. 76-81 Six DVD Combo Price $90.00

Vols. 78-81 Four DVD Combo Price $60.00

Vols. 80 & 81 Two DVD Combo Price $30.00
SHIMMER - WOMEN ATHLETES Vol. 81 (DVD)
Description:
1. Nixon Newell vs. Veda Scott
2. Shayna Baszler vs. Rhia O'Reilly
3. Kellie Skater vs. Vanessa Kraven vs. Shazza McKenzie vs. LuFisto
4. Jessicka Havok vs. Viper
5. Mia Yim & Kay Lee Ray vs. Yumi Ohka & Melanie Cruise
6. Arisa Nakajima vs. Nicole Matthews
7. Kc Spinelli vs. Ryo Mizunami
8. Heart of SHIMMER Championship: Nicole Savoy vs. Crazy Mary Dobson
9. SHIMMER Tag Team Championship: Kimber Lee & Cherry Bomb vs. Heidi Lovelace & Evie
10. SHIMMER Championship: Madison Eagles vs. Courtney Rush
Price: $15.00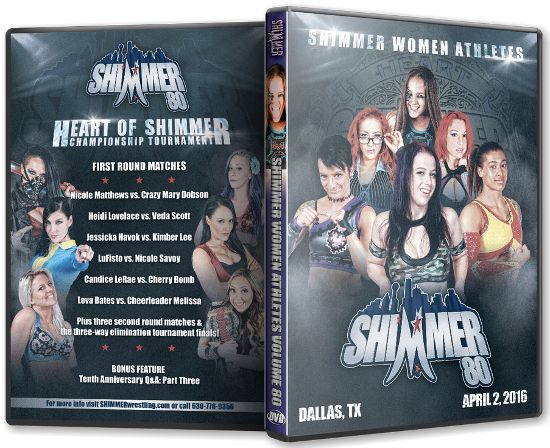 SHIMMER - WOMEN ATHLETES Vol. 80 (DVD)
Description:
Heart of SHIMMER Championship Tournament!
1. Leva Bates vs. Cheerleader Melissa
2. Candice LeRae vs. Cherry Bomb
3. LuFisto vs. Nicole Savoy
4. Jessicka Havok vs. Kimber Lee
5. Heidi Lovelace vs. Veda Scott
6. Nicole Matthews vs. Crazy Mary Dobson
7. Second Round Tournament Match #1
8. Second Round Tournament Match #2
9. Second Round Tournament Match #3
10. Three-Way Elimination Tournament Final Match
Bonus Feature: Tenth Anniversary Q&A: Part Three
Price: $15.00
Vols. 76-79 Four DVD Combo Price $60.00
Vols. 78 & 79 Two DVD Combo Price $30.00
Vols. 76 & 77 Two DVD Combo Price $30.00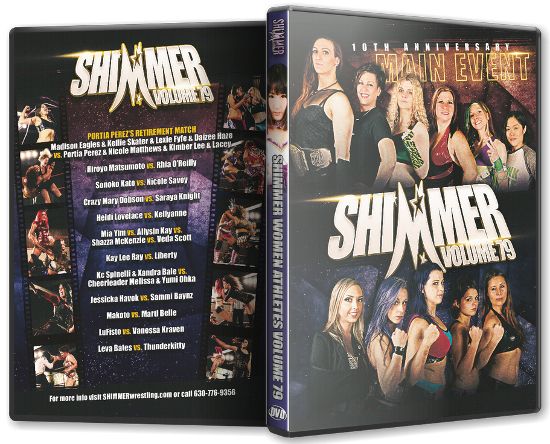 SHIMMER - WOMEN ATHLETES Vol. 79 (DVD)
Description:
1. Leva Bates vs. Thunderkitty
2. LuFisto vs. Vanessa Kraven
3. Makoto vs. Marti Belle
4. Jessicka Havok vs. Sammi Baynz
5. Kc Spinelli & Xandra Bale vs. Cheerleader Melissa & Yumi Ohka
6. Kay Lee Ray vs. Liberty
7. Mia Yim vs. Allysin Kay vs Shazza McKenzie vs. Veda Scott
8. Heidi Lovelace vs. Kellyanne
9. Crazy Mary Dobson vs. Saraya Knight
10. Sonoko Kato vs. Nicole Savoy
11. Hiroyo Matsumoto vs. Rhia O'Reilly
12. Portia Perez's Retirement Match: Madison Eagles & Kellie Skater & Lexie Fyfe & Daizee Haze vs. Portia Perez & Nicole Matthews & Kimber Lee & Lacey
Price: $15.00
SHIMMER - WOMEN ATHLETES Vol. 78 (DVD)
Description:
1. Solo Darling vs. Amanda Rodriguez
2. LuFisto vs. Veda Scott
3. Shazza McKenzie vs. Allysin Kay
4. Leva Bates vs. Rhia O'Reilly
5. Heidi Lovelace & Evie vs. Tessa Blanchard & Vanessa Kraven
6. Jessicka Havok vs. Kimber Lee
7. Liberty vs. Courtney Rush
8. Mia Yim vs. Nicole Matthews
9. Kay Lee Ray vs. Kellyanne
10. Hiroyo Matsumoto & Makoto vs. Cheerleader Melissa & Yumi Ohka
11. Kellie Skater vs. Sonoko Kato
12. SHIMMER Championship Match: Madison Eagles vs. Nicole Savoy
Price: $15.00
SHIMMER - WOMEN ATHLETES Vol. 77 (DVD)
Description:
1. Kc Spinelli vs. Veda Scott
2. Xandra Bale vs. Saraya Knight
3. Hiroyo Matsumoto vs. Thunderkitty
4. Liberty vs. Sammi Baynz
5. Six Woman Scramble: Kellie Skater vs. Candice LeRae vs. Marti Belle vs. Kay Lee Ray vs, Sonoko Kato vs. Allysin Kay
6. Crazy Mary Dobson vs. Courtney Rush
7. Jessicka Havok vs, Yumi Ohka
8. Heidi Lovelace vs. Kimber Lee
9. Makoto vs. Cheerleader Melissa
10. Mia Yim & Leva Bates vs. Tessa Blanchard & Vanessa Kraven
11. Evie vs. Nicole Savoy
12. SHIMMER Championship Match: Nicole Matthews vs. Madison Eagles
Price: $15.00
SHIMMER - WOMEN ATHLETES Vol. 76 (DVD)
Description:
1. 20 Woman Battle Royal
2. LuFisto vs. Taylor Made
3. Sonoko Kato vs. Kimber Lee
4. Shazza McKenzie vs. Courtney Rush
5. Mia Yim vs. Kellyanne
6. Yumi Ohka vs. Makoto
7. Crazy Mary Dobson vs. Cheerleader Melissa
8. Heidi Lovelace & Evie vs. Saraya Knight & Rhia O'Reilly
9. Hiroyo Matsumoto vs. Nicole Savoy
10. Kellie Skater vs. Kay Lee Ray
11. SHIMMER Championship Match: Nicole Matthews vs. Battle Royal Winner
Price: $15.00




Vols. 72-75 Four DVD Combo Price: $60.00


Vols. 74 & 75 Two DVD Combo Price: $30.00


Vols. 72 & 73 Two DVD Combo Price: $30.00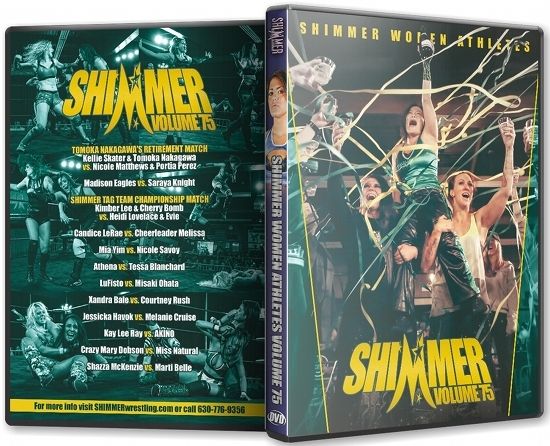 SHIMMER - WOMEN ATHLETES Vol. 75 (DVD)
Description:
1. Shazza McKenzie vs. Marti Belle
2. Crazy Mary Dobson vs. Miss Natural
3. Kay Lee Ray vs. AKINO
4. Jessicka Havok vs. Melanie Cruise
5. Xandra Bale vs. Courtney Rush
6. LuFisto vs. Misaki Ohata
7. Athena vs. Tessa Blanchard
8. Mia Yim vs. Nicole Savoy
9. Candice LeRae vs. Cheerleader Melissa
10. SHIMMER Tag Team Championship Match: Kimber Lee & Cherry Bomb vs. Heidi Lovelace & Evie
11. Madison Eagles vs. Saraya Knight
12. Tomoka Nakagawa's Retirement Match: Kellie Skater & Tomoka Nakagawa vs. Nicole Matthews & Portia Perez
Price: $15.00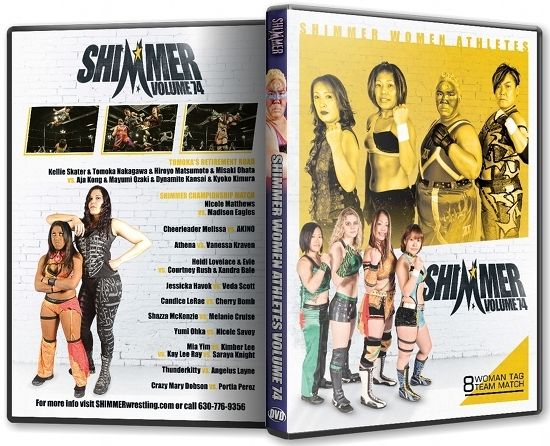 SHIMMER - WOMEN ATHLETES Vol. 74 (DVD)
Description:
1. Crazy Mary Dobson vs. Portia Perez
2. Thunderkitty vs. Angelus Layne
3. Mia Yim vs. Kimber Lee vs. Kay Lee Ray vs. Saraya Knight
4. Yumi Ohka vs. Nicole Savoy
5. Shazza McKenzie vs. Melanie Cruise
6. Candice LeRae vs. Cherry Bomb
7. Jessicka Havok vs. Veda Scott
8. Heidi Lovelace & Evie vs. Courtney Rush & Xandra Bale
9. Athena vs. Vanessa Kraven
10. Cheerleader Melissa vs. AKINO
11. SHIMMER Championship Match: Nicole Matthews vs. Madison Eagles
12. Kellie Skater & Tomoka Nakagawa & Hiroyo Matsumoto & Misaki Ohata vs. Aja Kong & Mayumi Ozaki & Dynamite Kansai & Kyoko Kimura
Price: $15.00
SHIMMER - WOMEN ATHLETES Vol. 73 (DVD)
Description:
1. LuFisto vs. Marti Belle
2. Crazy Mary Dobson vs. Melanie Cruise
3. Thunderkitty vs. Cheerleader Melissa
4. Mia Yim vs. Kyoko Kimura
5. Kay Lee Ray vs. Saraya Knight
6. Kellie Skater vs. Evie vs. Nicole Savoy vs. Allysin Kay
7. Athena vs. Tessa Blanchard
8. SHIMMER Tag Team Championship Match: Kimber Lee & Cherry Bomb vs. Courtney Rush & Xandra Bale
9. Heidi Lovelace vs. Misaki Ohata
10. Madison Eagles vs. Portia Perez
11. Tomoka Nakagawa vs. AKINO
12. SHIMMER Championship Match: Nicole Matthews vs. Jessicka Havok
Price: $15.00
SHIMMER - WOMEN ATHLETES Vol. 72 (DVD)
Description:
1. Jessicka Havok vs. Cheerleader Melissa
2. Courtney Rush & Xandra Bale vs. Taylor Made & Allysin Kay
3. Thunderkitty vs. Vanessa Kraven
4. Misaki Ohata vs. Nicole Savoy
5. LuFisto vs. Miss Natural
6. Shazza McKenzie vs. Veda Scott
7. AKINO vs. Portia Perez
8. No Disqualification Match: Evie & Heidi Lovelace vs. Saraya Knight & Mayumi Ozaki
9. Madison Eagles vs. Yumi Ohka
10. Two Out Of Three Falls Match: Athena vs. Mia Yim
11. SHIMMER Tag Team Championship Match: Kellie Skater & Tomoka Nakagawa vs. Kimber Lee & Cherry Bomb
12. SHIMMER Championship Match: Nicole Matthews vs. Kay Lee Ray
Price: $15.00